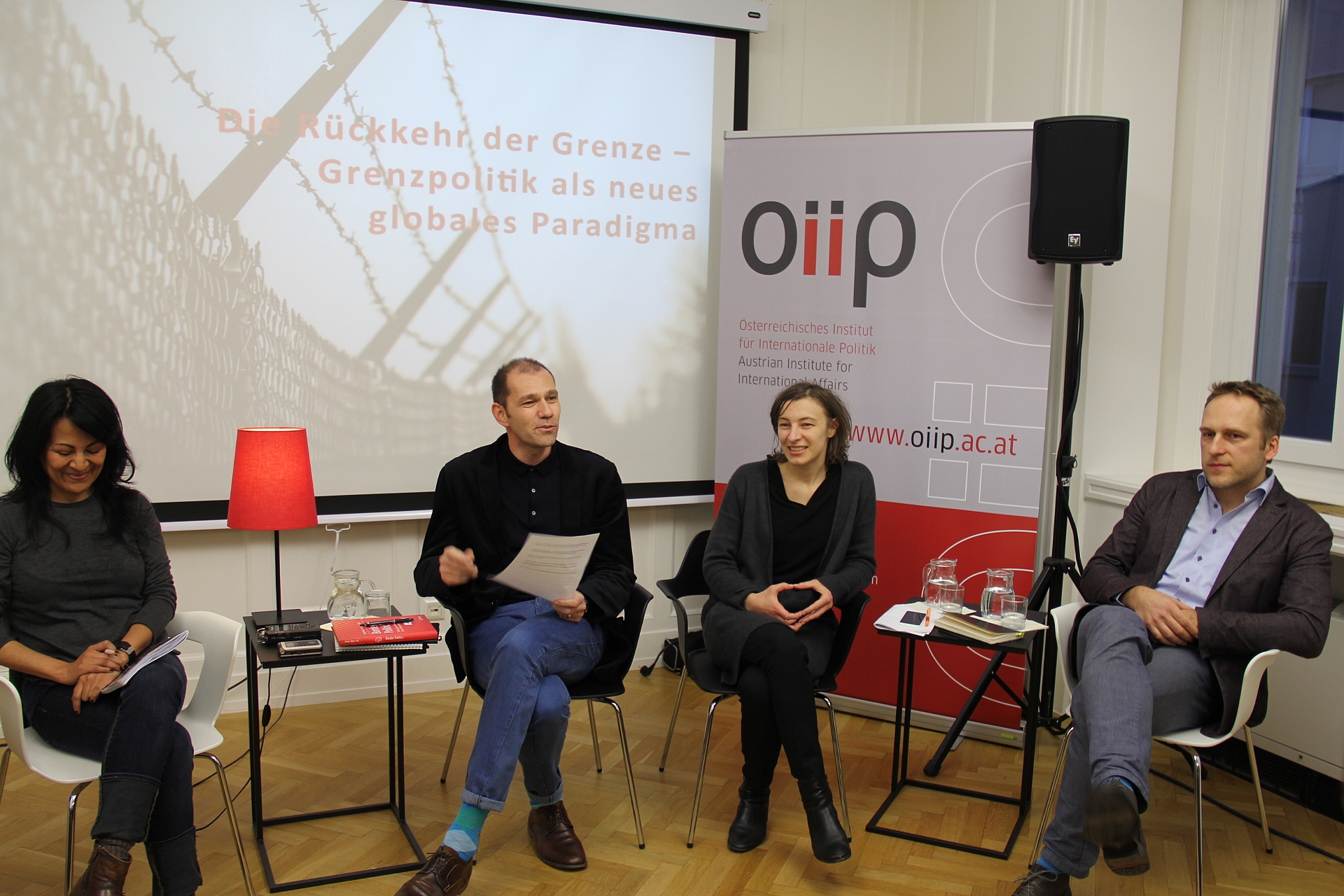 Die Rückkehr der Grenze – Grenzpolitik als neues globales Paradigma
09.03.2017
17:30 - 19:00
Die Veranstaltung, die zum Anlass der Präsentation des Jahrbuches des oiip – Add On stattfand, setzte sich mit der Bedeutung von Grenzen aus verschiedenen Perspektiven auseinander. Es wurde konstatiert, dass Grenzen nicht nur geographische Demarkationslinien darstellen, sondern auch identitätsstiftend sind. Es geht meist darum sich vom konstruierten "anderen" abzugrenzen und damit werden Grundlagen für nationalistische Diskurse geliefert. Dennoch wird die Grenzziehung aufgrund von technologischen Überwachungsmöglichkeiten immer diffuser. Die Form der Grenzpolitik bestimmt auch die Form der Grenzüberschreitungen mit. Eine rigide Grenzpolitik, bestimmt durch Überwachung und Kontrolle führt oft dazu, dass transnationale Netzwerke in die Kriminalität getrieben werden. Transnationale Identitäten lassen sich von Grenzen nicht aufhalten. Ganz im Gegenteil vermitteln diese die Idee von einer grenzenlosen Identität, jenseits von sprachlichen und ethnischen Unterschieden. Gleichzeitig kann auch das Fehlen von Grenzen eine Konfliktursache darstellen. Es mangelt z.B. angesichts unklarer Seegrenzen oft an Schutzmechanismen und Regulatoren die bindend und durchsetzbar sind.
Zusammenfassung der Veranstaltung
DiskutantInnen:
Clemens BINDER, oiip
Vedran DZIHIC, oiip
Daniela PISOIU, oiip
Gabriella SANCHEZ, University of Texas at El Paso
Moderation:
Cengiz GÜNAY (Mitherausgeber des Buches), oiip
Donnerstag, den 9. März 2017
17:30 Uhr
oiip
Berggasse 7, 1090 Wien
& Vorstellung des oiip-Jahrbuchs ADD – ON "Border Politics: Defining Spaces of Governance and Forms of Transgressions"
In der oiip Veranstaltungsreihe "Brennpunkte" werden aktuelle Entwicklungen auf internationaler Ebene diskutiert.