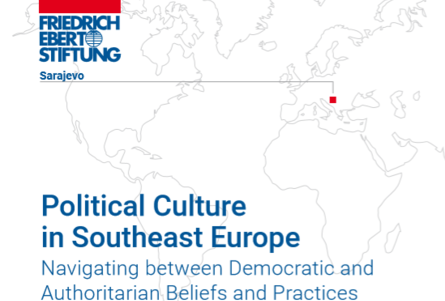 Political Culture in Southeast Europe. Navigating between Democratic and Authoritarian Beliefs and Practices
Political Culture in Southeast Europe. Navigating between Democratic and Authoritarian Beliefs and Practices
Friedrich-Ebert-Stiftung
February 2019
GAZELA PUDAR DRAŠKO, VEDRAN DŽIHIĆ, DAMIR KAPIDŽIĆ,  DARIO ČEPO, JELENA DŽANKIĆ AND JELENA VASILJEVIĆ
The failure of the countries in Southeast Europe in the last three decades to initiate deep political and societal change that would lead them towards the goal of liberal democracy cannot be explained only by the reference to wars and internal conflicts or by external factors related to their peripheral position in Europe. We argue that political culture has to be taken into consideration to help explain the phenomenon of defective or phony democracy in the Western Balkans.
A more forceful expression of emancipatory values by youth, along with greater action capabilities provided by economic growth, could create a more democratic political culture and leaders that are more accountable within a generation. However, it is necessary to have knowledge and understand what we want to influence, because simply supporting ›democracy‹ can go hand in hand with support for authoritarian values.
It has to be accepted and fully realized that political conditions and practices are not part of the inherited cultural repertoire, but are shaped by highly complex and intertwined structural and socio-economic processes. Then we will be able to respond with adequate (political and structural) propositions and solutions that might »expand popular capacities« (in the words of Stuart Hall) and bring about the desired change in Southeast Europe.