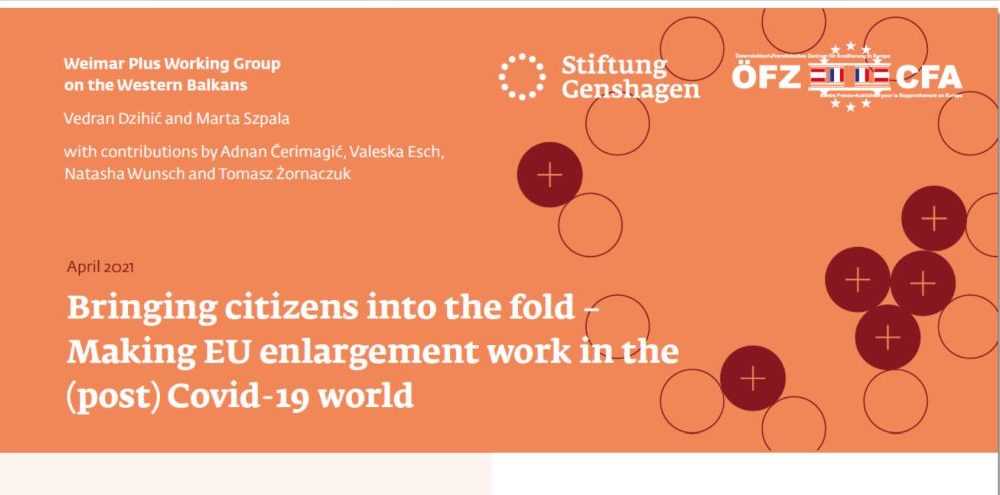 Bringing citizens into the fold – Making EU enlargement work in the (post) Covid-19 world
Bringing citizens into the fold – Making EU enlargement work in the (post) Covid-19 world
Stiftung Genshagen
April 2021
Kurzanalyse "Bringing citizens into the fold – Making EU enlargement work in the (post) Covid-19 world"
Die Coronakrise hat nicht nur die Länder der Europäischen Union hart getroffen. Auch auf die EU-Beitrittskandidaten im Südosten Europas hat sie verheerende Auswirkungen und erschwert deren EU-Integration. Welche Risiken – und womöglich auch Chancen – aus der Coronakrise für die EU-Annäherung der Region erwachsen, untersuchte die Weimar Plus Working Group on the Western Balkans. Sechs Expertinnen und Experten aus Berlin, Paris, Warschau und Wien trafen sich im November und Dezember 2020 zu einer Reihe von Online-Workshops, zu der die Stiftung Genshagen und das Österreichisch-französische Zentrum für Zusammenarbeit in Europa eingeladen hatten. Die Ergebnisse dieses intensiven Austauschs sind in der nun erschienenen Publikation "Bringing citizens into the fold – Making EU enlargement work in the (post) Covid-19 world" festgehalten.
Die Coronapandemie hat bestehende Schwachpunkte im Westlichen Balkan im Hinblick auf Gesundheits- und Sozialsysteme, wirtschaftliche Entwicklung und demokratische Kontrolle offengelegt. Über die sozio-ökonomischen Verwerfungen der Krise hinaus, könnte diese auch nationalistischen Kräften und autokratischen Regierungsformen weiter Auftrieb verleihen. Die Empfehlungen der Arbeitsgruppe gehen daher in zwei Richtungen: Zum einen brauchen EU-Entscheidungsträgerinnen und Entscheidungsträger einen kohärenten und strengeren Ansatz gegenüber politischen Eliten, die EU-Regeln und -Werten konstant zuwiderhandeln und ihre Reformzusagen nicht einhalten. Zum anderen findet die EU in den Bürgerinnen und Bürgern vor Ort natürliche "Verbündete", um politische Transformation in Richtung Demokratie und Rechtsstaatlichkeit zu ermöglichen und die EU-Annäherung des Westlichen Balkans voranzubringen. Die EU muss daher – auch über die Hauptstädte der Region hinaus – geeignete Foren schaffen, um der Zivilgesellschaft größere Mitbestimmung im Beitrittsprozess zu ermöglichen.
An der Weimar Plus Working Group on the Western Balkans nahmen Adnan Ćerimagić (European Stability Initiative, Berlin), Vedran Dzihić (Österreichisches Institut für internationale Politik), Valeska Esch (Aspen Institute Germany), Marta Szpala (OSW Zentrum für Oststudien), Natasha Wunsch (Sciences Po Paris) und Tomasz Żornaczuk (Polnisches Institut für internationale Angelegenheiten) teil.
Downloads